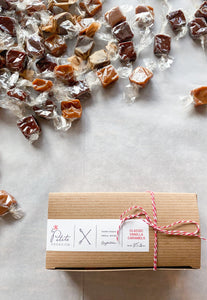 Our Dark Chocolate Caramels are for dark chocolate lovers. Think local Hudson Valley heavy cream, Kriemhild Meadow Butter, smooth organic dark chocolate, and a hint of salt at the finish, owing to just a dash of flake salt from Syracuse Salt Co.
ingredients: cream, butter, organic lemon juice, organic sugar, organic 74% dark chocolate (cacao beans, evaporated cane syrup, cocoa butter, sunflower lecithin), flake salt.

*Store extra pieces in a Ziploc bag to ensure freshness.